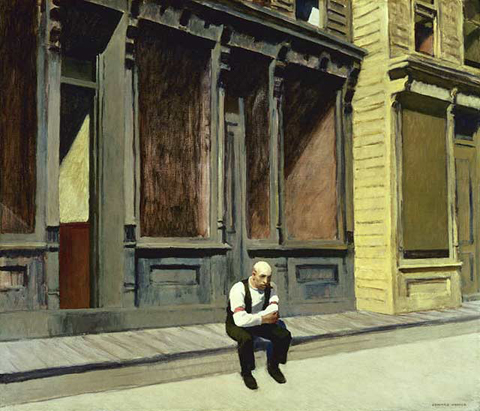 It is with a bit of misgiving
that I approach this week's entry, and for one very good reason - in no way is Rod McKuen's "The World I Used To Know" a folk, roots, or Americana song, no matter how elastic your definition of the same may be or how far you stretch the borders of the genres. No, "World" is just good old fashioned American pop music, albeit with with a 1960s guitar-based singer-songwriter inflection to it. However, like several other pop songs of the decade, most notably
"Try To Remember"
and
"They Call The Wind Maria"
, many of the cover versions of the tune were released by pop-folk and country musicians, and the nexus of composer, song, and performers gives me the chance to make a few observations about folk and pop music - and to present some interesting versions of a good number, folk or not.
I had my say regarding McKuen in two earlier posts, one on
"Seasons In The Sun"
and a bit more completely on
"Doesn't Anybody Know My Name?"
, and I don't want to repeat myself here. Suffice it to say that while I am not a fan at all of McKuen's attempts at poetry, I hold him in high regard as a composer and lyricist, one whose musical vision in both songs and orchestral compositions was so idiosyncratic and so out-of-step with the pop culture of his times that an artist whose songs sold tens of millions of recordings (and "Seasons" as done by Terry Jacks is one of only a handful of single records with certified worldwide sales of ten million or more units), who had arguably the greatest pop vocalist of the last century record an entire album of his compositions (Frank Sinatra's 1969
A Man Alone
), and who sold
millions
of books when a genuine bestseller scores in the tens of thousands in hardcover - this artist is nearly anonymous today, despite being a healthy and active senior citizen. So much for the glory of the world.
Part of the problem with McKuen's legacy, and here I mean the fact that this artist whose works in different genres were wildly popular in their day (even though he never evolved into a leading performer himself) is so largely unknown to younger generations today and forgotten by his own, is that McKuen's music was never quite either fish or fowl - never traditional-sounding or protest-oriented enough to be remembered as folk but never quite complex enough to bear comparison with the work of great pop songsmiths like Cole Porter or Johnny Mercer.
And therein lies a tale, and for my money not an especially happy one. For the first half of the 20th century and beyond, American popular music was created largely by a small army of technically competent and usually highly trained professionals. They were musically literate, often steeped initially in classical influences, and they could read and write in formal notation. The best of them, whether they cut their musical teeth in windowless offices in Tin Pan Alley like the Gershwin brothers or Hoagy Carmichael or in smoky nightclubs like Duke Ellington or in grand ballrooms like Glen Miller, created a national popular music that could actually rival the serious European "classical" composers in depth and complexity.
Then came Elvis - or more to the point, then came the rock revolution. Derived as it was from the rhythm and blues music of self-taught African-American artists, rock was by its very nature a simpler, more straightforward kind of music than the older American pop - three simple major chords in the accompaniment, usually, and not a hell of a lot of texture to it. The artistry in this genre, both in its R&B roots and in the various evolutions of rock itself, was in performance and improvisation, not in carefully structured compositions and arrangements. When the three-chord folk influence was grafted onto rock through the lyrical brilliance of Bob Dylan, you had a new version of American pop music take root and eventually supplant the older and much more sophisticated version of the 50s and earlier.
And that created the crack into which Rod McKuen has fallen. His period of greatest musical productivity was the 1960s and 70s, an era when the most successful musicians could play supersonic solos on guitar but who were musically completely illiterate - and still hacking away with three chords when McKuen was (in his orchestral work especially) employing the whole palette of musical colors that his older generation pop predecessors had. In the larger pop world, it was left to a now-aged group of musically literate producers and arrangers, Quincy Jones foremost among them, to create interesting and complex musical settings for singers, bands, and rappers who in a thousand years could never do so for themselves. McKuen had no such problems - but in the Alice-in-Wonderland musical landscape of today, when "folk" music was written five minutes ago and the hilarious oxymoron "classic rock" is an actual radio format and a term people use with a straight face, McKuen and his work have found no place to call home.
Too bad, really, because the man could write really good pop material and channel the French cabaret with uncanny skill. "World I Used to Know" is 100% American musically, but it is tinged with a very Parisian melancholy. Here is how McKuen himself interprets his song:
Note the minor chord structure with which he opens the tune. I have always liked McKuen's vocals on his own songs - that gravelly voice suggests depths of emotion that a more polished one would not.
McKuen wrote and recorded the song in 1963; it was immediately covered in '64 by pop-country chart-topper Jimmie Rodgers and pop-folk stars the Kingston Trio. Rodgers' version broke the top 50 on
Billboard
's Hot 100 but rose as high as #9 on the adult-contemporary charts:
Rodgers is another one of those innovators who deserves to be better remembered than he is. Long before Dylan and the Byrds, Rodgers was performing a kind of proto-folk-rock - but his gentle arrangements of actual traditional sources like "Kisses Sweeter Than Wine" and "The Wreck of the John B" tend to exclude him from any serious discussion of the genre.
The Kingston Trio did more to bring attention to McKuen's work than any other artist, at least in the early stages of the composer's career when the pop-folksters still had a powerful commercial appeal. This is from the group's last album of their seventeen on Capitol Records, the live
Back In Town
. Vocal lead is by Bob Shane:
Uncredited on the album, Wrecking Crew member and soon-to-be pop and country superstar Glen Campbell is sweetening the accompaniment. Campbell included his version of the song a few years later on
Gentle On My Mind
, his first of an impressive seven #1 albums on the country charts:
Also in 1964 - former Limeliter Glenn Yarbrough signaled his move toward pop music by bringing that memorable voice and vocal style to bear here:
****
Bless me Woody, for I have sinned - in straying so far this week from my own folk roots and preferences. But I have been thinking quite a bit recently about the directions in which pop music has been heading - and dragging what used to be folk and country music along with it. I noticed on FaceBook that today, March 2nd, would have been the 62nd birthday of Karen Carpenter, a flawless pop singer whose voice, phrasing, pitch, inflection, and good taste are scarcely to be found anywhere in pop music today. I never warmed to the treacly nature of most of what she sang, but she had a voice of liquid velvet and actual musical training that glowed in every phrase she sang. With brother Richard's supremely competent orchestrations and arrangements, Karen Carpenter is as much a relic of a bygone era as Rod McKuen himself - and we are none the better for that melancholy fact.